SF FAIRANT KRAKÓW
In 2018, together with friends, I decided to set up a new football club in Kraków. The idea was to create a "Fan-owned club' in which each member can decide the fate of their club. The club that was created was named SF Fairant.
In the first year of the club's existence I was the board-member responsible for marketing and the creation of identification materials, including: the name, logo (coat of arms) and social media materials.
TWO PHASES OF THE PROJECT
The original logo project was created in accordance with the idea of a return to nature in the heart of a big city, hence the golden-green colour and a light, optimistic image. We also wanted the project to be an opportunity to meet people for whom modern football, based on gigantic financial transfers, has ceased to be interesting. We looked back with nostalgia to the 1990s when football was closer to the supporter.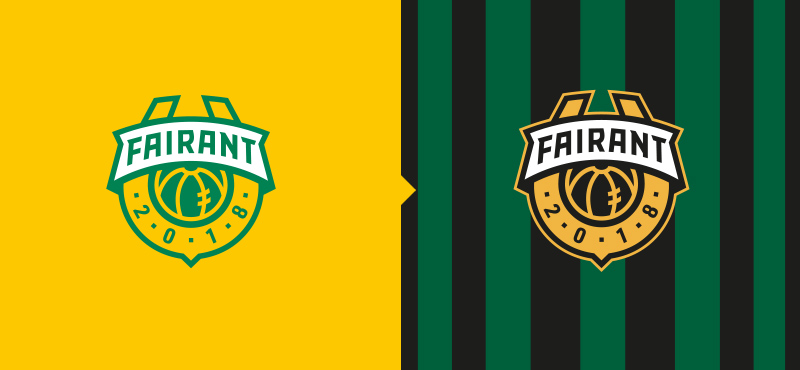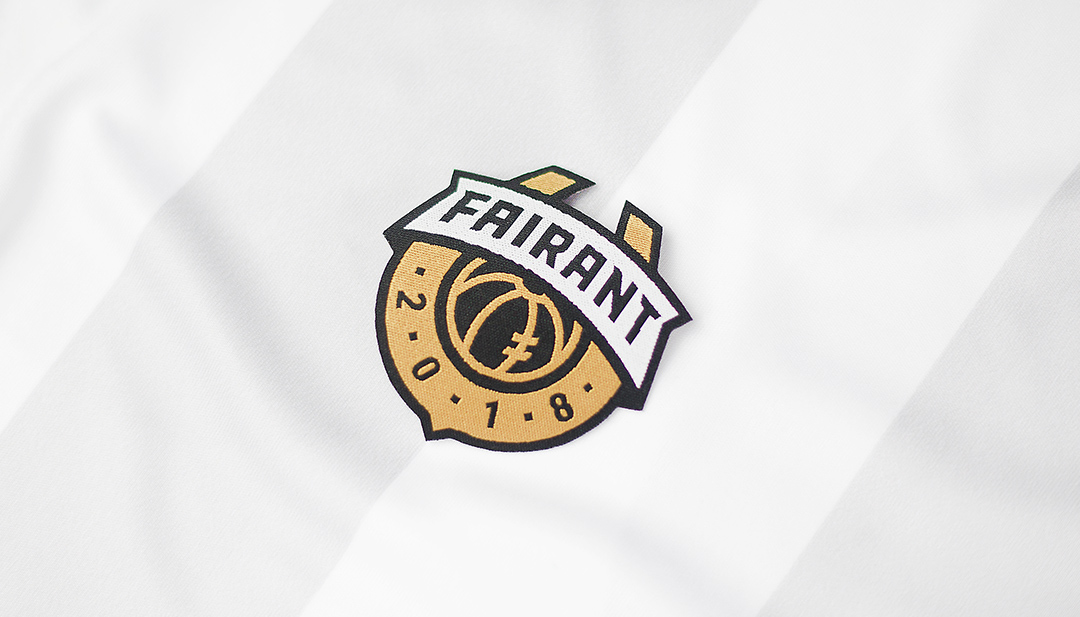 However, at a board meeting in the middle of the year we came to the conclusion that the club needs a more aggressive, "masculine" image and we looked for ways to achieve this. At that time, we decided to add black to the coat of arms, and a motif with a green and black striped uniform to the identification materials.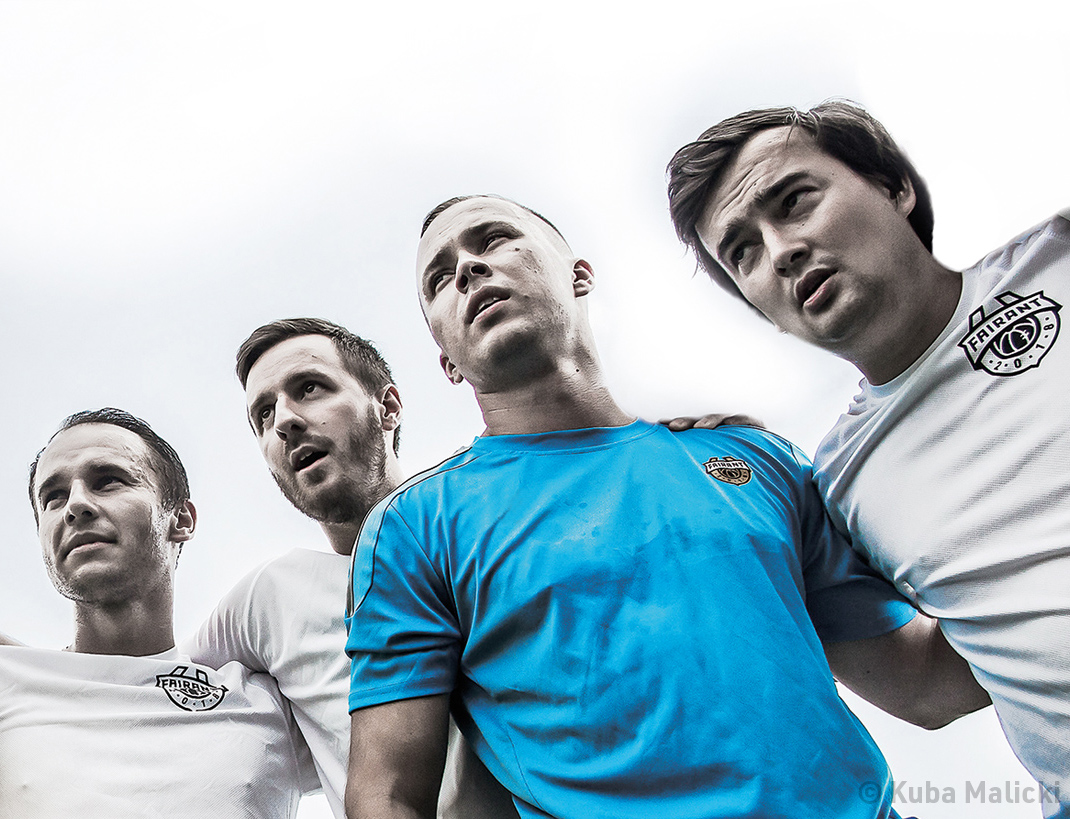 These changes can be seen in the key visual imagery of the club – which I created based on photos of the team. This was used to create a line of materials for social media and the design of specially made match-kits.
PROTOTYPES OF MATCH-KITS
"It can't be a big problem for sports clubs to get specially made kits, can it?" – I thought, during the preparation of the shirt design for Fairant. Unfortunately, large mass-producing companies can, at most, offer bulk purchases of one of their designs and personalization using a selected printing technique. Smaller manufacturers are reluctant to take on such a task, because producing 50 kits is not profitable for them. And for clubs at the bottom of the footballing pyramid buying kits is a huge cost anyway…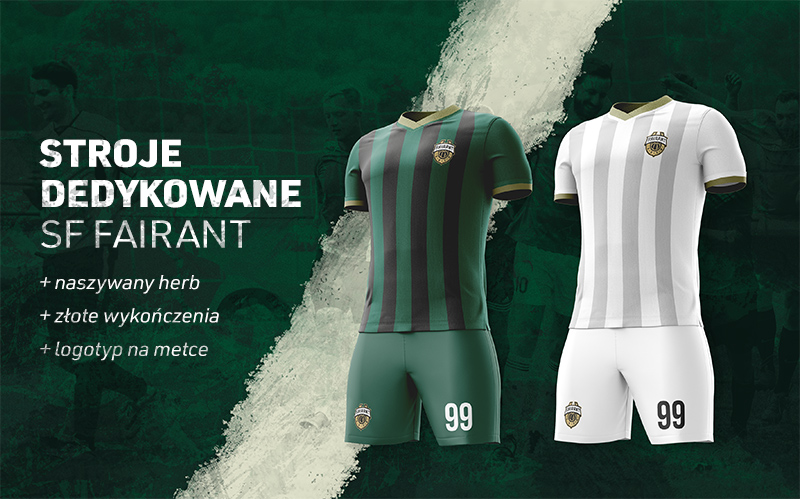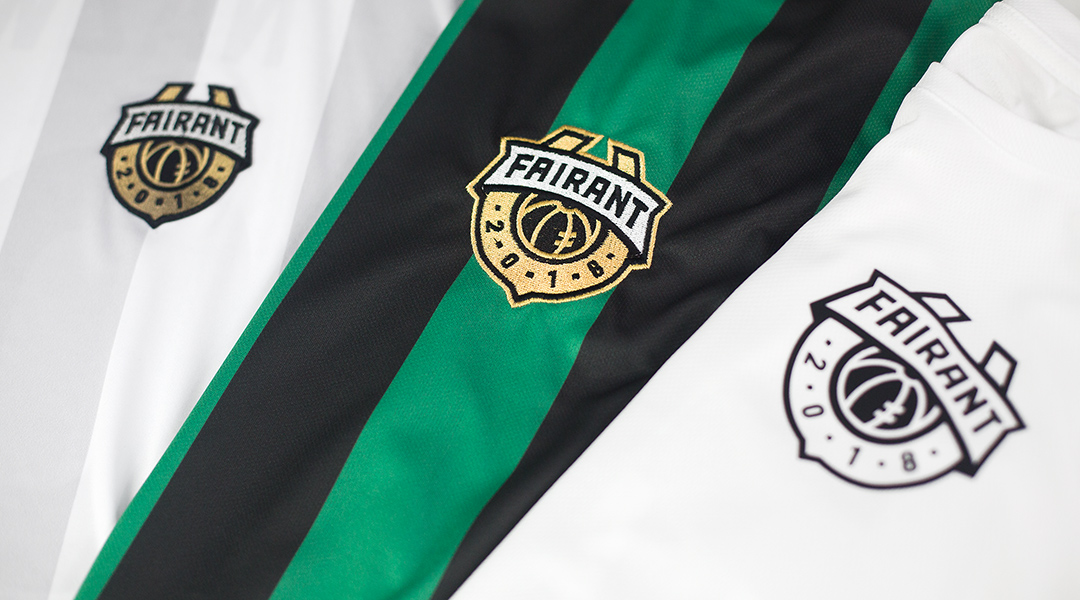 I thought that it paid to be ambitious and … I received a lesson in humility. I failed to complete the project for the team, despite purchasing prototypes from several Polish producers. One company turned out to be completely untrustworthy. They sent plain striped uniforms without the Fairant coat of arms after the team had played its first competitive matches! All of this after promising they would carry out the order appropriately.
We clearly did not want plain kits, the most important thing was the coat of arms … It's possible that someday I will return to a similar task, but at the moment the team has bought kits from a Danish manufacturer.
MATCH MATERIALS
During the autumn round of the 2018-2019 season, I prepared a set of match materials for Fairant – from tickets and match programs to scarves.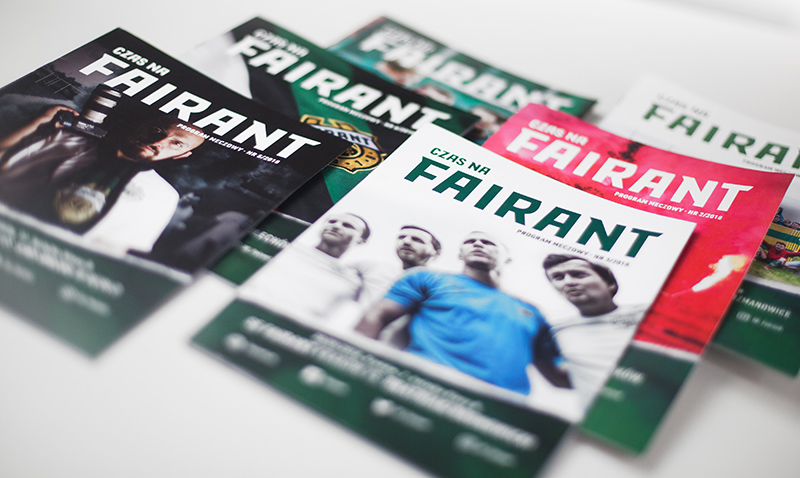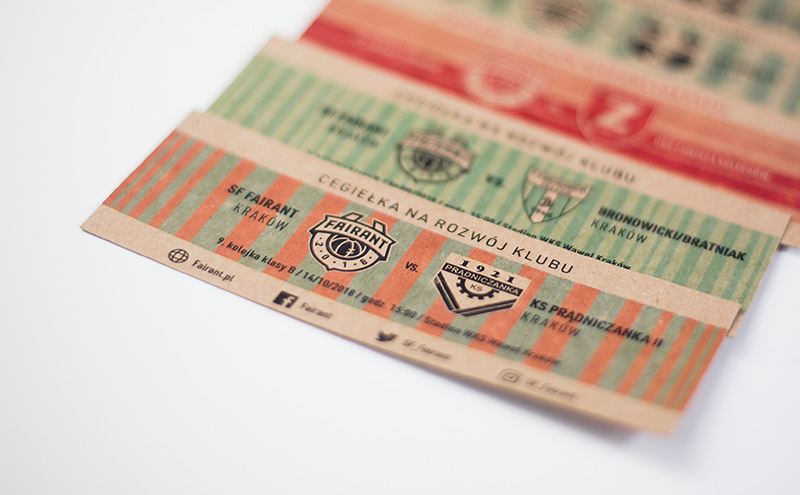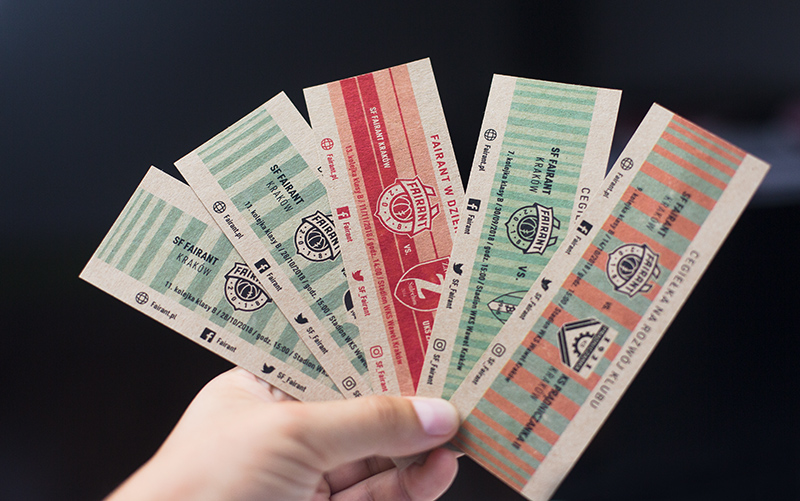 SOCIAL MEDIA GRAPHICS
I created social media materials for Fairant, including graphics for various types of posts (match previews, team line-ups, final-scores, fixtures etc.).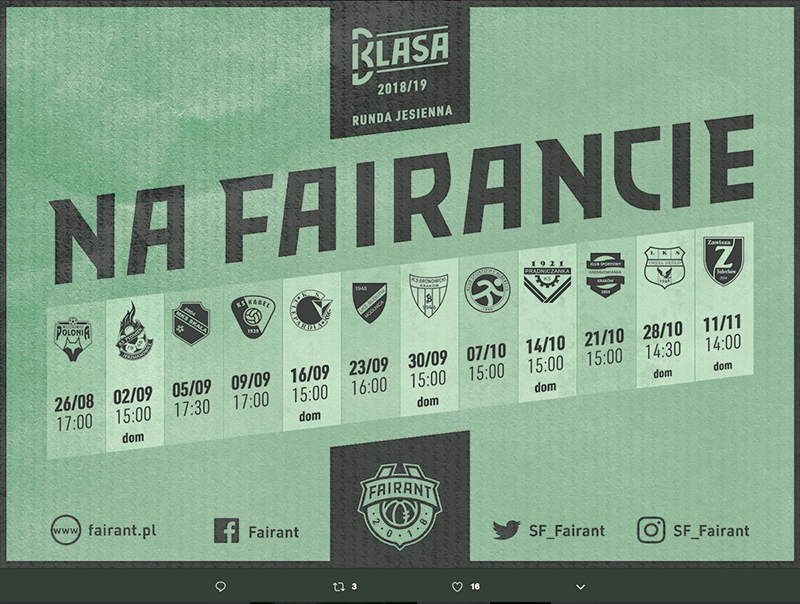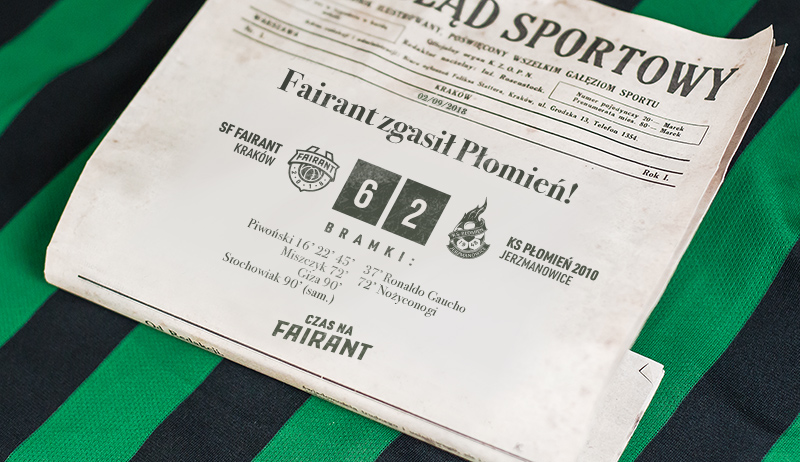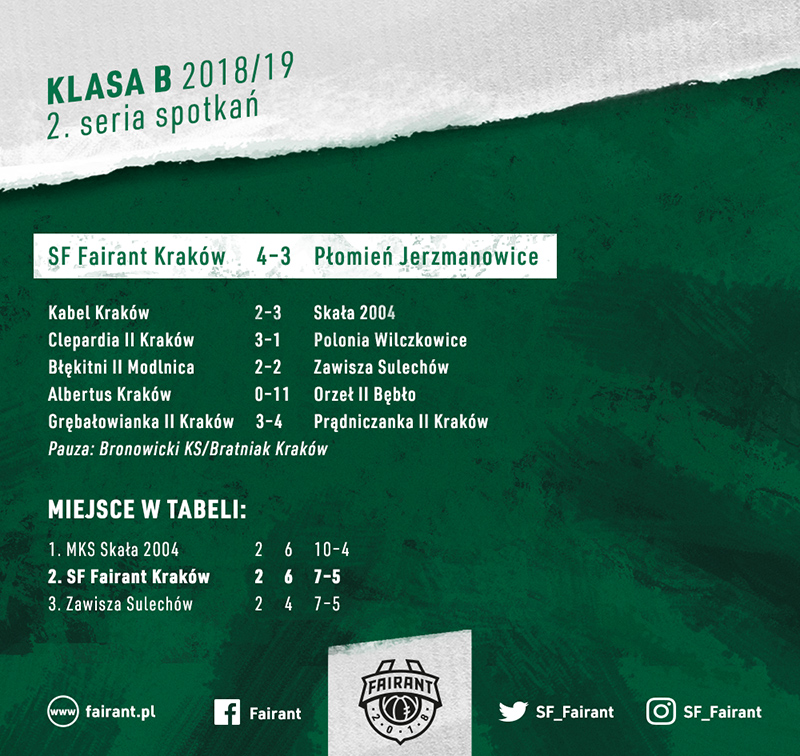 FAIRANT IN 2019
This year I had to limit my activity at Fairant, because it was difficult for me to combine family and professional duties with regular trips to games. In addition, the activities of such a "fan-owned" club should be based on the work of many members, not just a 3-5 person committee. Group work gives better results and engages people in the project. In this respect, the functioning of the club was improved and colleagues who were previously less active became more involved in its day to day activities. In terms of image, the club has become more of a community project.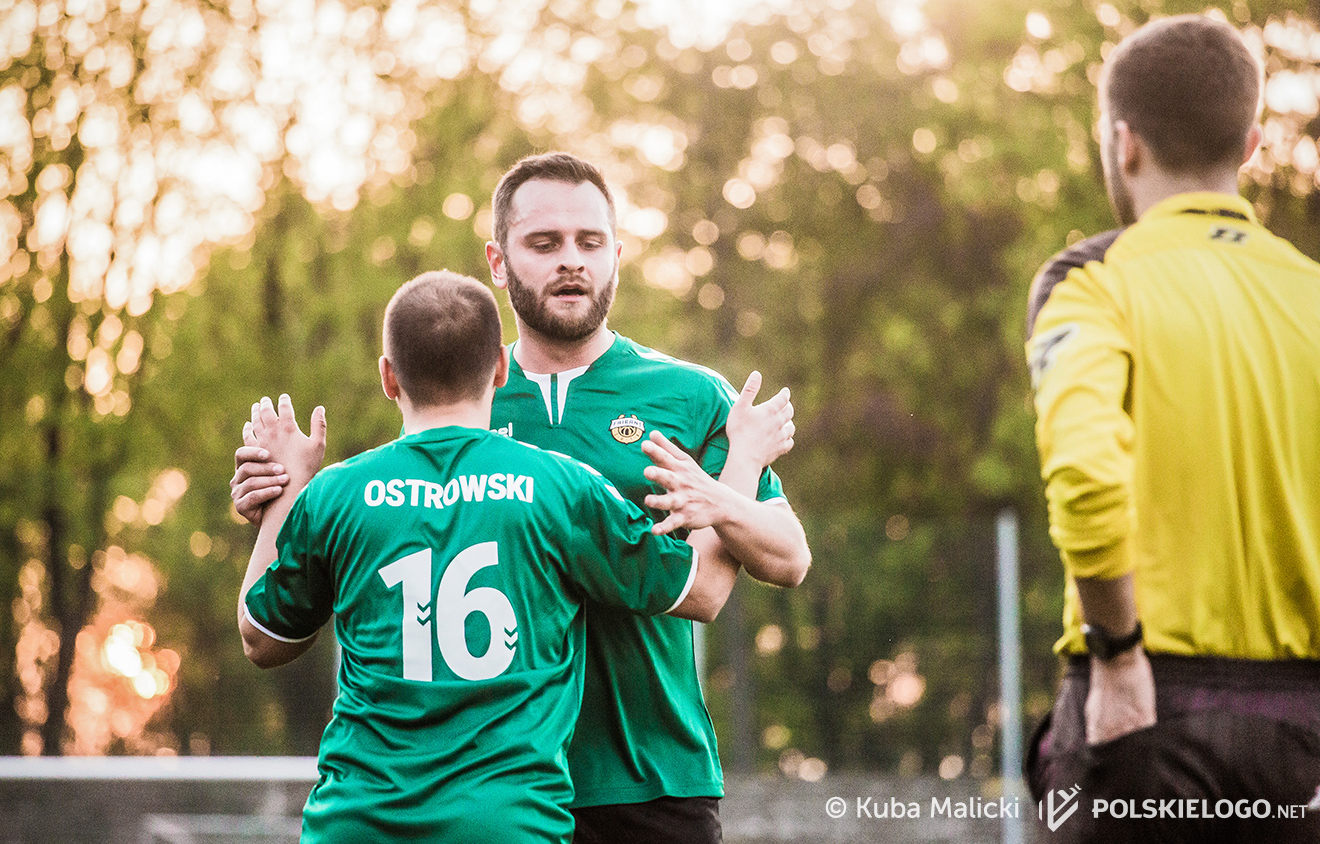 In addition to the coat of arms, colours, kits and flags, the key element of building a club's identity is its own stadium. This was the biggest problem in Fairant's first year – matches were played at rented facilities – first at KS Nadwiślan, then KS Zwierzyniecki and WKS Wawel until eventually, in 2019 Fairant moved to Bronowianka. Ideally the club would possess their own stadium but in Kraków, this is not an easy task.
SF Fairant is a work in progress and, if the project is developed through integrational meetings, the club has a chance to become an important player on Kraków's footballing map.